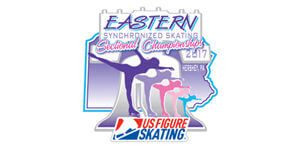 Congratulations to SCW Blades Open Juvenile Team who finished 6th in the Open Juvenile Team B event at the 2017 Eastern Synchronized Sectional Championships.
Congratulations to all of our skaters that competed at the 2017 US Figure Skating Championships. We are proud of all of you and what you accomplished.
Senior Ladies-Ashley Wagner Silver Medal and a spot on the 2017 World Team
Senior Dance-Julia Biechler/Damian Dodge 7th Place and 3rd alternate to the 2017 World Team
Senior Dance-Elicia Reynolds/Stephen Reynolds 10th Place
Junior Men-Peter Liu 7th Place
Intermediate Men-Nicholas Hsieh Bronze Medal
The following article appeared in the October 2016 edition of Skating Magazine.
More than 100 current and former skaters,coaches and members gathered in Wilmington, Delaware, on July 23 for the first Skating Club of Wilmington reunion.
The event, held in conjunction with the 50th annual Skate Wilmington competition, attracted alumni from 14 states. The club's history of Olympic and World athletes includes Ashley Wagner, Kitty and Peter Carruthers, Stacey Smith and John Summers, Gillian Wachsman and Todd Waggoner, Elisa Spitz and Scott Gregory, Carol Fox and Richard Dalley, and Lea Ann Miller and Bill Fauver. Other Olympians and World medalists who trained at the rink include Calla Urbanski and Rocky Marval, Viktor Pfeifer and Suzy Semanick. Read more
This past Saturday's Holiday Recital performances have been captured in photograph for your pleasure. Thank you to all of the performers for a great show!
Photos from 2016 Holiday Recital
This past Saturday's performances by our competitive SCW skaters were excellent during our Send-Off Exhibition prior to the Eastern Sectional 2017 Championships near Charlotte, North Carolina. The new bright LED lights in our rink made a huge difference in getting better photographs of the event also as you'll be able to see. Thank you and good luck to all our skaters!
Photos from Saturday's Send-off Exhibition
We would like to congratulate Ashley Wagner on her Gold Medal performance at Skate America 2016.
Wagner won the Progressive Skate America women's title Saturday, edging California training partner Mariah Bell.
Japan's Shoma Uno topped the men's short program earlier, followed by Americans Adam Rippon and Jason Brown.
Wagner, the world silver medalist, has now won her second Skate America title in five seasons.
 "Today was a little sticky, but at the end of the day I got the job done," Wagner said. "I think I built upon what I did at the Japan Open. It felt like more of a complete program and I think that's what pulled me through today. Beyond that, I think I have some serious spin levels to work on going into Cup of China; they were dearly missed today."
Coach Rick Stengle passed away Sunday morning after suffering several strokes in the past 6 weeks. He skated at SCW as a competitor and then coached full-time at SCW from 1983-2011 and he was an 8-time National Freestyle Skating Coach. He coached part-time for a couple of years after 2011, and often would stop by during his retirement to catch up on rink news. He taught all levels of free skating at all ages and even taught low level ice dancing. Rick had a B.A. from ENC in Boston. Rick will be greatly missed by many of his friends, past students and close associates. Funeral arrangements will be announced at a future date.
Good luck to all our skaters at the Regional Championships!
Photos from Saturday's Send-off Exhibition
The 2016 Governing Council Combined Report of Action is attached.  There is also a summary of major changes, the page that applies to the change, and the effective date of the change.  You are encouraged to read the entire report for changes that may apply to you or your skater. http://skatewilm.com/wp-content/uploads/2015-16-Combined-Report-of-Action-FINAL.pdf
2015-16 Combined Report of Action


The 2016 Governing Council Representative from SCW were Sharon Hatcherson, Jennifer Lyon and Barb Goodrich.  If you have any questions, please contact one of our Governing Council representatives.
2016 Governing Council – Columbus Ohio


Stay cool this summer, try ice skating at the Skating Club of Wilmington.  You're never too young or too old to learn how to ice skate. Summer skating lessons start on Wednesday, June 15, 2016. LESSON TIME: 6:30 to 7:00 PM. Cost: $15, no need to sign up in advance, pay each Wednesday at the door.  Cost  $15 includes skate rental and lesson. Followed by Public Skating Wednesday evening 7 to 7:50 pm, only $5.