View the official results from Skate Wilmington 2017 Competition including 6.0 events and IJS events.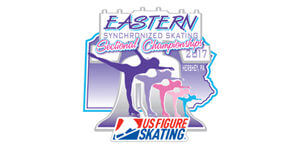 Congratulations to SCW Blades Open Juvenile Team who finished 6th in the Open Juvenile Team B event at the 2017 Eastern Synchronized Sectional Championships.
Congratulations to all of our skaters that competed at the 2017 US Figure Skating Championships. We are proud of all of you and what you accomplished.
Senior Ladies-Ashley Wagner Silver Medal and a spot on the 2017 World Team
Senior Dance-Julia Biechler/Damian Dodge 7th Place and 3rd alternate to the 2017 World Team
Senior Dance-Elicia Reynolds/Stephen Reynolds 10th Place
Junior Men-Peter Liu 7th Place
Intermediate Men-Nicholas Hsieh Bronze Medal
This past Saturday's Holiday Recital performances have been captured in photograph for your pleasure. Thank you to all of the performers for a great show!
Photos from 2016 Holiday Recital
Results for Autumn Skate 2016 are posted!  This is a competitive event, sanctioned by U.S. Figure Skating. This competition is open to all eligible, restricted, reinstated or readmitted persons as defined by the Eligibility Rules, and is a currently registered member of a U.S. Figure Skating member club, a collegiate club or an individual member in accordance with the current rulebook.
This past Saturday's performances by our competitive SCW skaters were excellent during our Send-Off Exhibition prior to the Eastern Sectional 2017 Championships near Charlotte, North Carolina. The new bright LED lights in our rink made a huge difference in getting better photographs of the event also as you'll be able to see. Thank you and good luck to all our skaters!
Photos from Saturday's Send-off Exhibition
We would like to congratulate Ashley Wagner on her Gold Medal performance at Skate America 2016.
Wagner won the Progressive Skate America women's title Saturday, edging California training partner Mariah Bell.
Japan's Shoma Uno topped the men's short program earlier, followed by Americans Adam Rippon and Jason Brown.
Wagner, the world silver medalist, has now won her second Skate America title in five seasons.
 "Today was a little sticky, but at the end of the day I got the job done," Wagner said. "I think I built upon what I did at the Japan Open. It felt like more of a complete program and I think that's what pulled me through today. Beyond that, I think I have some serious spin levels to work on going into Cup of China; they were dearly missed today."
Julia Biechler & her partner, Damian Dodge placed in 4th place in the Senior Dance level at the 2016 Lombardia Trophy Competition in Bergamo, Italy. This was their very first International competition as part of Team USA. Congratulations to both! SCW is proud of you!
Good luck to all our skaters at the Regional Championships!
Photos from Saturday's Send-off Exhibition
The Skating Club of Wilmington was pleased to host a "Meet and Greet Johnny Weir" breakfast on Saturday, April 16, 2016 in the board room of the Skating Club. Johnny joined us for a Question & Answer session, and guests were given an opportunity to take photos with him and get autographs.
Photos from Saturday's Breakfast with Johnny Weir