Freestlye & Axel Clinic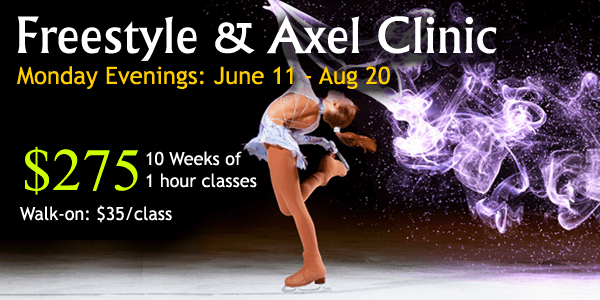 A clinic style group class that expands free skating competency, and introduces
Learn-to-Skate USA's new 'Axel Club' curriculum with off-ice jump training.
The program is charged at the following rate:
All 10 weeks: $275.00
OR Walk-in Rate of $35/class

Class Dates
The clinic will meet on the following Mondays in summer:
June 11 | June 18 | June 25 | July 9 | July 16 | July 23 | July 30 | August 6 | August 13 | August 20
There will be no class on July 2
Class Time
5:30-6:10 On Ice Class
6:10-6:20 Get skates off/sneakers on,
6:20-6:40 Off ice Jump training class
Benefits:
Economical Supplemental Training on challenging skills in a fun format
Introduction to off-ice jump training
Learning shared with peers, increasing social connections
Full Ice Surface
Experienced Coaching Staff
Class Purpose & Content
The purpose of the class is to help skaters at the LTS Free Skate Levels build and expand their free skating skill competency and introduce them to the new Axel class curriculum which will officially start in the SC of Wilmington Group Program in Fall 2018. The clinic is not meant to replace regular group class participation or private instruction but rather serve as supplemental training offered in a fun and economical format. In a 40 minute full ice class, skills covered will include half and single rotation jumps, waltz/loop combinations, basic spins (especially the back spin) and exercises from the LTS axel class curriculum, along with other techniques to build power and control. The harness may be used on occasion at instructor's discretion. Participants will also be introduced to off-ice jump training to build their readiness for multi-revolution jumps such as the axel. This aspect of class will emphasize strengthening jump principles such as take-off, air and landing positions, along with off-ice axel work.
Who Can Participate?
The clinic is ideal for LTS Free Skate Group lesson students. Knowledge of jumps and spins in Free Skate 3 and higher is helpful but not required. Participants should have passed the Pre FS level (or Basic 8) however. Club members who are No Test FS, or Pre-Preliminary and Preliminary Test Track skaters are also welcome to participate at full cost. If a student is already taking private lessons, they should seek the permission and approval of his or her private coach before enrolling in this additional and supplemental instruction.
Equipment Needed
All participants must own or purchase their own pair of skates to participate in this class. Sneakers will be needed for the off-ice portion of class time.
The program is charged at the following rate:
All 10 weeks: $275.00
OR Walk-in Rate of $35/class