Intro to Moves in the Field Clinic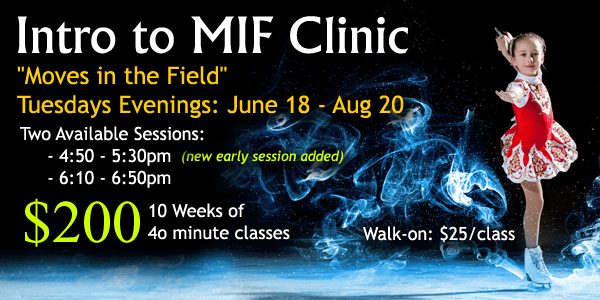 A clinic style group class that develops basic skating skills with an emphasis on power and
form through beginning stroking and Moves in the Field patterns
The program is charged at the following rate:
All 10 weeks: $200.00
OR Walk-in Rate of $25/class

Class Dates
10 Weekly Tuesday Sessions:
June 18 | June 25 | July 2 | July 9 | July 16 | July 23 | July 30 | August 6 | August 13 | August 20
Class Time
Class will meet on Tuesdays this summer. Two sessions available:
4:50 pm – 5:30 pm (new early session added)
 6:10 pm – 6:50 pm
Benefits:
Economical Supplemental Training on challenging skills in a fun format
Introduction to Moves in the Field patterns
Learning shared with peers, increasing social connections
Full Ice Surface
Experienced Coaching Staff
Class Purpose & Content
This class is specifically for Basic Skill level skaters and group lesson participants, and will introduce the requirements of the first official USFS Moves in the Field level: the Pre-Preliminary test.* "Moves" or "MIF" training is essential for any skater beyond the Basic Skills. Comprised of mandatory patterns on full ice, Moves in the Field challenge skaters to develop skills with control, power, edge quality, flow, rhythm and extension. MIF training is required in all disciplines of competitive skating, such as Singles, Dance or Pairs, and vital for participation and success in Synchronized Skating as most teams require some test standard in regard to MIF. Participants will have the chance to begin learning these skills in a fun social setting among their peers. Register today and help your skater get a head start, as he or she works towards that first official test of United States Figure Skating!
*Actual Pre-Pre MIF test requires full USFS/SCW membership, and a private coach
Who Can Participate?
The clinic is ideal for LTS Basic Skill group lesson students. Ideally, participants should have passed the Basic 4 level at a minimum, but lower level skaters can be accommodated if there is interest. Club members who have not passed the Pre-Pre MIF test are also welcome to participate at full cost. If a student is already taking private lessons, they should seek the permission and approval of his or her private coach before enrolling for this additional and supplemental instruction.
Equipment Needed
All participants must own or purchase their own pair of skates to participate in this class. Sneakers will be needed for the off-ice portion of class time.
The program is charged at the following rate:
All 10 weeks: $200.00
OR Walk-in Rate of $25/class