Wilmington Winter Classic Ice Hockey Fundraiser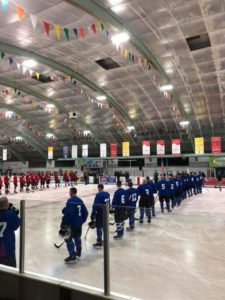 The Wilmington Police Department defeated the Wilmington Fire Department 7-3 Saturday night in the Wilmington Winter Classic ice hockey game at the sold-out Skating Club of Wilmington.
The annual event benefits the Andrew McDonough B+ (Be Positive) Foundation, which funds research for childhood cancer and provides financial assistance to families of kids who have cancer.
Pregame activities included a moment of silence for the three Wilmington firefighters – Christopher Leach, Jerry Fickes and Ardythe Hope — who died in the line of duty in 2016, as well as Philadelphia firefighter Matt LeTourneau, who died in a Saturday morning blaze.
Story Continues at DelawareOnline.com