SkateSafe Program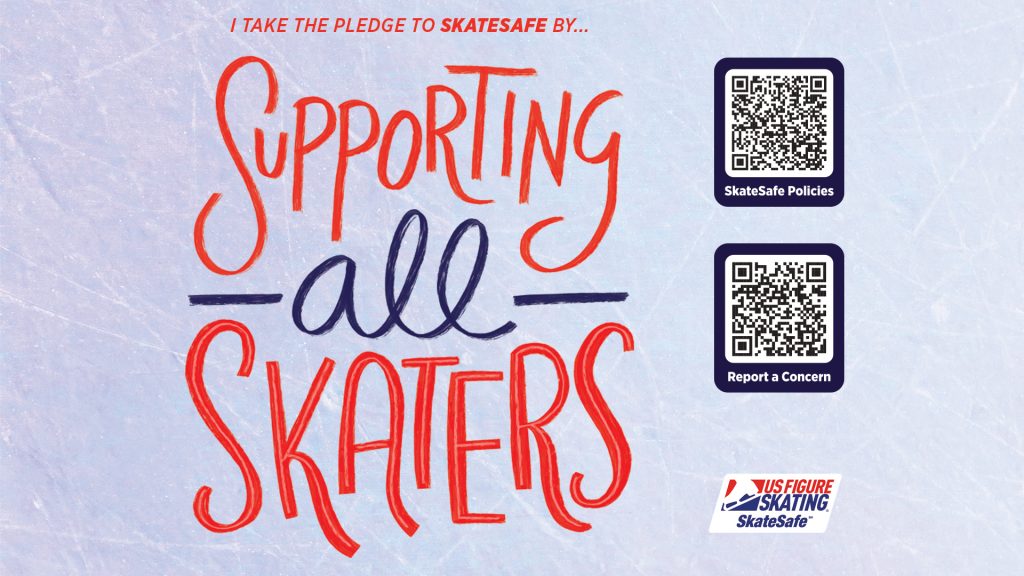 U.S. Figure Skating and the Skating Club of Wilmington strive to provide a safe environment for its members that is free of abuse and harassment. The association will not tolerate or condone any form of harassment or abuse of any of its members including athletes, coaches, officials, directors, employees, parents, volunteers or any other persons while they are participating in or preparing for a figure skating activity or event conducted under the auspices of U.S. Figure Skating. All forms of abuse and harassment are unacceptable and in direct conflict with U.S. Figure Skating rules. The Skating Club of Wilmington takes the implementation of the USFS SkateSafe Program seriously. We have also joined the USOC Make the Commitment campaign.
The U.S. Figure Skating SkateSafe Program addresses the following types of abuse, harassment and misconduct:
Sexual abuse and misconduct
Physical abuse and misconduct
Emotional abuse and misconduct
Willfully tolerating misconduct
Our SkateSafe Compliance Chair will do the following:
Draft, implement and monitor the SkateSafe policies and procedures of SCW
Verify that all of the coaches who are engaged in any type of coaching activity with any club skater or are coaching skaters at USFS sanctioned competitions/test sessions or other sanctioned events at SCW are in compliance with the USFS coaching membership rules regarding background checks and continuing education requirements.
Serve as the initial contact in the club for persons to report suspected abuse, misconduct or other violations, and provide direction regarding the complaint reporting structure including directing information to the appropriate USFS committee.
Serve as the liaison for the USFS SkateSafe Program and work with SCW members, their parents or permanent legal guardians and coaches to facilitate implementation of all aspects of the SkateSafe Program.  Also serve as a liaison with US Figure Skating's Ethics Chair, Grievance Chair and SafeSkate Chair as well as USFS SafeSkate support employees.
Participate in workshops/webinars as provided by USFS, collect and share information with club membership, coaches and employees.
Complete all required SkateSafe training and background check with a green-light outcome.
Perform other functions as necessary in the fulfillment of US Figure Skating's continuing efforts to foster a safe, health and fostering environment for its members, athletes and participants.
Please contact Sharon Hatcherson, SCW SkateSafe Compliance Chair, with any questions or to report any violations of SkateSafe at SafeSportSkateWilm@skatewilm.com
Important Links
a) USFS SkateSafe page: http://www.usfigureskating.org/clubs?id=84197
b) SkateSafe Training: https://uscenterforsafesport.org/
c) SCW SkateSafe Reporting of Incidents: SafeSportSkateWilm@skatewilm.com
d) Report a Concern to US Center for Safesport: Report an Incident to SafeSport
e) Report a Concern to USFS: Report an Incident USFS
f) USFS SkateSafe email for question: skatesafe@usfigureskating.org
The SkateSafe Handbook & US Center for SkateSafe

  Download/Print The SkateSafe Handbook

  Download/Print US Center For SafeSport
USFS Rules Pertaining to SkateSafe

 Download/Print SkateSafe Compliance Requirements

Download/Print SkateSafe Quick Reference Compliance Roles

 Download/Print SkateSafe Verifying Member Compliance

 Download/Print SkateSafe Compliance FAQs
SkateSafe Policies Approved by SCW Board of Directors
U.S. Figure Skating has developed policies for its member clubs to help them address abuse and misconduct if it should occur, and to reduce, monitor and govern areas where potential abuse and misconduct could occur. U.S. Figure Skating recommended that its member clubs adopt the SkateSafe policies that are applicable to their club and facility to reduce the risks of potential abuse. Our membership is expected to abide bythese policies. Any violations of the SkateSafe policies should be reported to the SCW SkateSafe Compliance Officer at SafeSportSkateWilm@skatewilm.com. The SCW Board of Directors adopted the following policies in September 2013:
a) Locker Room & Changing Areas Policy 


Basic Locker Room Policy 


b) Travel Guidelines 


c) Social Media, Mobile and Electronic Communications 


d) Ice Usage and Etiquette Rules 


e) Parent Code of Conduct 


f) Skater Code of Conduct 


g) Board of Directors Agreement 


h) Bullying Policy 


i) Harassment Policy 


j) Hazing Policy