Testing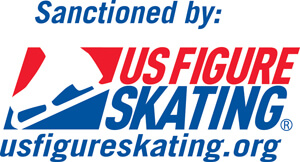 Figure skating in the U.S. can be either competitive or recreational, and those learning to skate can choose either route. While competitive skaters are required to participate in the U.S. testing structure to eventually compete in qualifying competitions, recreational skaters can also opt to take tests in order to continually challenge themselves and their abilities.
The official tests of U.S. Figure Skating may be taken by all figure skaters who are members of a member club or collegiate club, individual members who are currently registered with U.S. Figure Skating and are otherwise qualified under these rules, as well as by members of a member association of the ISU.
Test sessions can only be held under the auspices and control of a member club. Fees are involved and vary by club. Sessions are organized and run under procedures outlined in the U.S. Figure Skating rulebook. Any person who is interested in participating in the U.S. Figure Skating testing structure is encouraged to review The Official U.S. Figure Skating Rulebook. The rulebook addresses such questions as coaching and the conduct of candidates at test sessions.
Tests are marked on a "pass" or "retry" basis. Some tests have numeric marks associated with them that determine if the test is a "pass" or "retry." These are used to establish a "passing" average, and judges use this number as a basis for the quality of the test. Different tests have different standards for "pass" and "retry," along with different procedures for reskating elements in a test. For details, candidates should consult the rulebook for the particular test to be taken. If a test is marked "retry" a skater may not retake the test prior to the 27th following the date of the original test.
For all tests other than adult and masters tests, age is not a factor. To qualify for an adult test, the candidate must be 21 years of age or older. To qualify for masters tests, the candidate must be 50 years of age or older.
Couples Dance Tests will be allowed on the March 21, 2021 test session.




Delaware requirements mandate use of a tight fitting highly protective mask such as an N95, surgical or multi-layer cloth mask which covers the mouth and nose. Single layer gators are not permissible.

Hand sanitizing prior to and following skating is required. Hand contact with your mouth, face or eyes should be avoided. Wellness checks should be performed by all coaches and skater prior to entering our facility.

If wearing gloves, coaches and/or skaters should change to a fresh pair of gloves prior to their next session. Each pair of gloves should not be used multiple times in a day.
| | |
| --- | --- |
| Dance  Testing | Free, MIF, Pairs Testing |



Registration deadlines are typically 2 weeks prior to the testing event. Please refer to individual events for actual deadline dates. Refunds will not be given for tests cancelled.
For questions and additional information, please contact Diana Wisner dianask8r@me.com
Upcoming Test Dates