A History of the Club
Skating on the Brandywine! How many memories are evoked in the minds of the charter members of The Skating Club of Wilmington of ice skating in the area, limited to a few days of winter when the Brandywine River and nearby lakes and ponds were frozen. It was in March of 1964 that The Skating Club of Wilmington opened its indoor skating rink and ice skating became possible for nine and a half months a year. The history of The Skating Club, however, begins prior to 1964.
Predecessors of The Skating Club of Wilmington
In the late 1940's, Mr. Frederick Chorlton Mitchell recognized the need for an ice rink and, while participating in a Hobby Show sponsored by the Wilmington Lions Club in conjunction with Recreation, Promotion and Service, Inc., he solicited the names of 200 people who had a genuine interest in ice skating.
Eventually, through Mr. Mitchell's untiring efforts, an outdoor rink was built at Price Run Park with private financing by local philanthropist, Mr. William Winder Laird, and operated by Recreation, Promotion and Service.
The Price Run Rink opened on February 14, 1955, with portable ice-making machinery that was experimental. A few members of The Skating Club of Wilmington still remember the often windy, snowy and even rainy nights of outdoor skating.
By March 1956, it was clear that there was sufficient public interest in ice skating to form a club and a small group of persons, headed by Mr. Louis P. Holladay, III and Mr. Mitchell, contacted those who had expressed an interest, thus forming the Wilmington Skating Club.
By October 1956, the Constitution of the Wilmington Skating Club was adopted with Mr. Holladay as first President and Mr. Augustine Hicks Lawrence, Jr. as Vice President and the first Club skating session was held at the Price Run Rink. Also, during that time, the Club applied to the USFSA for membership, and on February 4, 1957 it was accepted as a USFSA Probationary Member Club with Full membership being granted in 1958.
The Wilmington Skating Club used the facilities at Price Run Rink until that rink closed at the end of the 1959-60 season because of ice-making problems. During the next two years the Club skated at Cliff Thael's indoor studio ice rink on Penny Hill with Mr. Mitchell as its President. It was there, during the second year, that members became acquainted with Mr. Philip W. Fraser, the studio's new Professional and Manager.
Formation and Construction of The Skating Club of Wilmington
With increased local interest in ice skating, it became evident that a full-sized enclosed rink was needed. A tremendous canvass headed by Mr. Lawrence raised $1,200, in $5 contributions, for a study of plans for a rink and availability of a site. At the same time it was decided that the operation should take a new name and on March 3, 1961 THE SKATING CLUB OF WILMINGTON was incorporated.
The Club applied to the USFSA for a change of club title which was readily granted. Land was located on which the rink could be built and, after rezoning and many other complications, The Skating Club of Wilmington took title on June 15, 1961. The five and a half acres purchased cost $37,500, for which the Club borrowed the money.
In 1962, Mr. E. Nelson Edwards, architect for the Philadelphia Skating Club and Humane Society in Ardmore, was engaged by the Club to draw up plans for the construction of the new rink. In August 1962, the Club filed with the Securities and Exchange Commission a registration statement covering $300,000 Sinking Fund Debenture Bonds due in 1993. A number of civic minded individuals and some of the Club members subscribed to these bonds to the total amount of $268,000.
Ground breaking ceremonies for the rink took place on June 15, 1963 when a group of people, including Mr. Lawrence and Mr. Mitchell, poured crushed ice on the ground as a gesture symbolic of laying a smooth ice surface. The land and building, including various equipment, cost just under $600,000, of which about 83% was borrowed. This was a large undertaking for a private club with 256 charter members and credit goes to those optimistic and dedicated people who insisted that "it could be done".
On March 20, 1964, the members finally skated on their own ice for the first time, and on April 12 there was an official opening with exhibitions by Canadian and American champions and general celebration by the membership, the Staff and the Club's only Professional, Mr. Fraser. Although the first season was very short, it was nevertheless successful with its new figure skating and hockey programs.
The First 25 Years, 1964 – 1989
In 1965, locker rooms were added to the original bare bones structure, and in succeeding years the Frederick C. Mitchell Lounge, the upstairs kitchen, bleachers, show lighting, the audio system, and the ceiling insulation of silver batting were also added. The professional staff grew from one to as many as fifteen for several years. The original full-time staff of three, a manager, a bookkeeper and a superintendent, was doubled, and sometimes tripled. The rink was in such demand that for years it was open 24 hours a day.
The Club started operating a summer figure skating school in 1965, and a summer hockey camp in 1970. Over the years it also hosted a number of Philadelphia Area, South Atlantic and Eastern figure skating championships, as well as its own SCW Club Competition and the still existing Skate Wilmington Summer Competition. The Brandywine Blades Spring Show was an annual event for many years and IceScapes Summer Exhibition still continues.
The Wilmington Wheels hockey program was organized by Charter Member Joseph A. Wheelock who also served as the first coach. The Wheels were named in his honor. The excellent reputation of the Club program has been maintained by the dedication of his many successors over the years.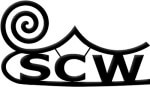 Insignia Items (pins, tie tacks, charms, tie bars), now collectors' items, were designed and made by well-known artist, silversmith and Gold member, Mrs. Eleanor C. Nichols. Mrs. Nichols originally created the SCW pin and other SCW jewelry in the late 1960s. Her design was adapted in 1969 by Charter Member, Mrs. Alice R. Edinger, for the Club Logogram, Newsletterhead and Handbook cover. Many other uses of both the original and the adaptation have since followed.
In 1980, the non-profit SCW Foundation, Inc. was established with the objective of furthering affordable skating to teams, competitors and the community at large by receiving and distributing tax-deductible donations of funds and in kind.
A number of new membership categories, both full and associate, were instituted and also a number of new skating programs for both members and non-members, thus enabling the Club to serve an ever wider market.
The Next 25 Years, 1989 – 2014
In the spring of 1989, the Club sold 2.72 acres of its undeveloped land to finance major renovations of the rink and convert it to a year-round facility. The renovations took three months to complete, cost $700,000 and resulted in a new refrigeration system, new electrical equipment, longer ice surface, totally enclosed new barrier, hockey boxes, new rubber matting, renovated skate shop, new rental shop, and remodeled Office. In 1990 a new Zamboni was purchased for $43,000. In 1995, the arches holding up the roof were refurbished at a cost of $100,000. The next season, new heating and light systems were installed. Other important work awaits attention and will be addressed as time and finances permit.
In April of 1995, SCW was privileged to host the very first United States Adult Figure Skating Championships sanctioned by the USFSA. It was such a resounding success that it has become a large annual event, commonly known as "Adult Nationals", which can only be held at locations with several ice surfaces. In March of 1997, SCW hosted its first annual Adult Open Competition, a non-qualifying competition.
Since its inception, SCW has offered a General Membership which had unlimited transfer privileges and lower dues than the Regular Membership which was also offered. A General Membership was purchased from a list of those for sale by former General Members who had resigned in good standing for the original 1960s price, that is $500 for Multiple Skating privileges or $300 for a Basic or Individual Skating Privilege which was payable directly to the original owner. General memberships were limited in number and originally served the purpose of bringing in capital contributions to help construct the Club building. As time passed, the resale value of these memberships was determined to be negligible because so few were sold from the available list. The Board of Directors passed a resolution in 1996 to eliminate and retire all General memberships not currently in use.
In the 1996-1997 Club year, the Wilmington Wheels hockey program changed their name to the Wilmington Typhoons. The Club's hockey program was converted from a Club program to a rental ice program beginning with the 2002-2003 Club year.
On February 19th, 2004 one of our most loved members and a guiding light to SCW passed away. Emory Mersereau (81) epitomized the heart and soul of the Club for 40 years. His legacy will live on through its members, staff and professionals. They will continue to guide it during the years ahead to its 50th celebration in 2014.
——————————————————————————–
Based on "History of the Club" written in 1976 by Eleanor H. Wagner; revised in 1989-90 by Peter A. Bilous, Brenda S. Fedorak and Elizabeth B. Ingersoll, and again in 1996-1997 by Martha C. Baumeister, Dorothy D. Gualtieri, Valerie S. Pease and Carole S. Smith. Last paragraph revised by Don Thureau on 2/22/04.