SCW LED Lighting Fundraiser
We are having a fundraiser for the purchase of new led lighting. Come take a look and see the difference.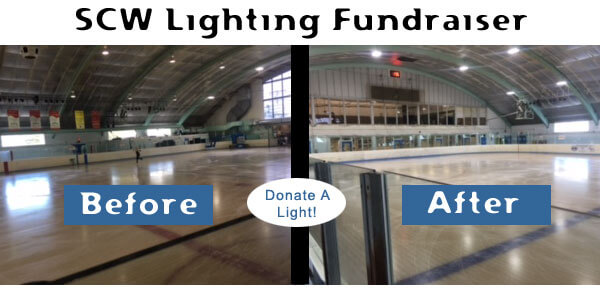 We are asking people to donate the cost of 1 light (cost is $460.00). SCW is a non- profit organization so your donations are tax deductible!
PURCHASED A LIGHT

Peter Bilous
Barbara Goodrich
Dot Gualtieri
Ginny Harcke
Sharon Hatcherson
Nancy Jehl Memorial Fund
Michael Kirifides
Jack Larner & Marjorie Egee
Nancy Marvel
Sara Jane Munshower (In memory of Rick Stengle)
Kevin Penfield
Angela Rivard
Carole Smith
Kathryn Sornson
Jon Strasser
Kristin Struven
Donald Thureau

DONATED

Julia Biechler
Allison Butler
Pat Conchar
Chris Goodrick
Ginny Harcke
Larissa Heather
Dianne Hotmer
Nicholas Hsieh
Pam Kincaid
Sue Lapin
Lori Beth Levin
Janice Li
Peter Liu
Kristen Marvel
Sandra Mather
Sandi Mather (Ladies Group)
Sandra Melican
SCW Blades
Alice Rakowski
Irene Sannajust
Irene Sannajust
David Shapiro
Gina Shaughnessy
Lotus Shen
Ocean Shen
Elizabeth Sills
Carole Smith
Mary Smith
Kathy Snyder
Melinda Weinstein
Sara Weymouth
Diana Wheeler
Be a Donor and have your name add to this list!
Contact the Office today for details: 302-565-5005