If you enjoy figure skating and want a wonderful opportunity to see some great and entertaining figure skating up close and personal, now is your chance to order tickets to this 2-day event scheduled on Friday and Saturday evenings, April 6 and 7, 2018 here at the Skating Club of Wilmington's Ice Arena. You will not want to miss this event!
The Skating Club of Wilmington is pleased to host a "Meet & Greet Jeremy Abbott" with morning tea on Saturday, April 7, 2018 in the board room of the Skating Club of Wilmington. A buffet featuring tea, sandwiches and baked goods will begin at 10 am. Jeremy will be joining us for for a Question & Answer session, as well as an opportunity for photos and autographs.
Join us on Sunday April 15th, 2018 to audition for one of our SCW Blades Synchronized Skating Teams. Registration starts 11:45am. Registration fee: $20 & $10. Please wear all black and hair in a neat bun.
The younger age class appears especially promising, with skaters such as 15 year old Hsieh (pronounced Shay), who was third in the novice competition at the recent U.S. Nationals…
Delaware is a Popular Training Ground for Olympic Skaters. An ice rink in Wilmington, Delaware has been shaping Olympic figure skaters for decades. NBC10's Tim Furlong takes us inside the famous facility.
Whether your goal is to aim for the Olympics, improve your overall health and fitness, enjoy the social aspects of skating or just to have fun, you are sure to realize those goals by learning to skate at the Skating Club of Wilmington.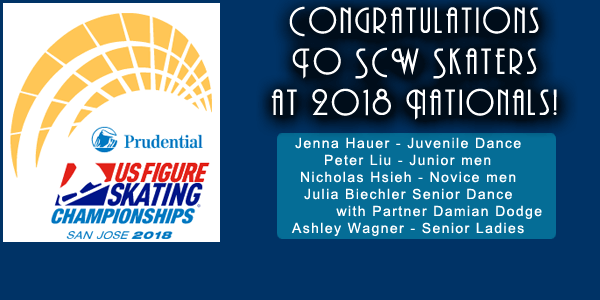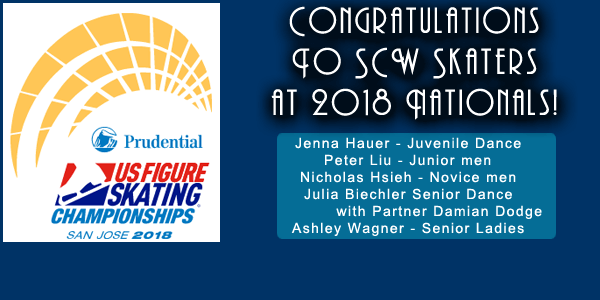 Congratulations to all of our skaters that competed at the 2018 Prudential US Figure Skating Championships in San Jose, California last week. We are very proud of your accomplishments!
Ashley Wagner – Senior Ladies 4th place (pewter medal) and 1st alternate to the Olympic and World teams
Julia Biechler – Senior Dance (with partner Damian Dodge) – 10th place
Peter Liu – Junior Men – 9th place
Nicholas Hsieh – Novice Men – 3rd place (bronze medal)
Jenna Hauer – Juvenile Dance (with partner Benjamin Starr – 1st place (gold medal)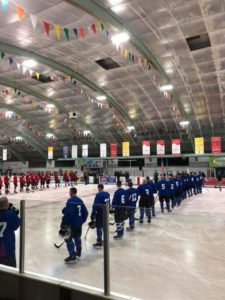 The Wilmington Police Department defeated the Wilmington Fire Department 7-3 Saturday night in the Wilmington Winter Classic ice hockey game at the sold-out Skating Club of Wilmington.
The annual event benefits the Andrew McDonough B+ (Be Positive) Foundation, which funds research for childhood cancer and provides financial assistance to families of kids who have cancer.
Pregame activities included a moment of silence for the three Wilmington firefighters – Christopher Leach, Jerry Fickes and Ardythe Hope — who died in the line of duty in 2016, as well as Philadelphia firefighter Matt LeTourneau, who died in a Saturday morning blaze.
Story Continues at DelawareOnline.com
by Lynn Rutherford, special to icenetwork
Jenna Hauer and Benjamin Starr's light and charming free dance to the soundtrack of the romantic 2011 French film The Artist won high praise from judges Monday at the 2018 U.S. Figure Skating Championships, earning the couple 42.86 points and helping them crush the competition on their way to winning the juvenile dance title.
When added to their scores from the two pattern dances, the Connecticut-based skaters ended with 83.84 points, putting them more than 14 points clear of their closest competitors. [read more]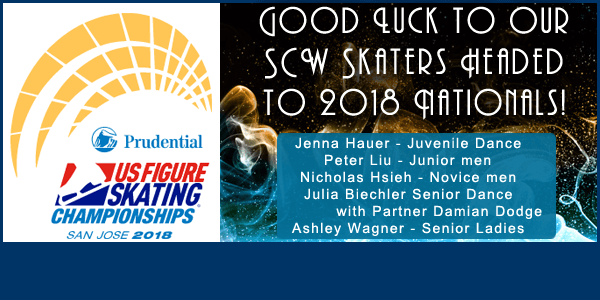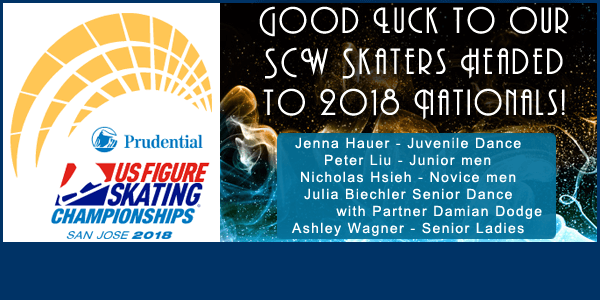 The following SCW skaters will be competing at the 2018 National Figure Skating Championships in San Jose in January. Good luck to our competitors!
Jenna Hauer – Juvenile Dance with partner Benjamin Starr (First Place!)
Nicholas Hsieh – Novice Men
Peter Liu – Junior Men
Julia Biechler – Senior Dance with Partner Damian Dodge
Ashley Wagner Senior Ladies