The annual Night of Heroes, presented by DOW, celebrates the significant contributions of people and organizations both from the past year and over a longer period of time. The gala event is on Wednesday, October 10, 2018 at 6:00 p.m. at the Executive
Conference and Banquet Center in Newark, DE.
Hosted by the Skating Club of Wilmington, November 16th through 18th. This is a competitive event, sanctioned by U.S. Figure Skating and part of the adult competition series. This competition is open to all eligible, restricted, reinstated or readmitted persons as defined by the Eligibility Rules, and is a currently registered member of a U.S. Figure Skating member club, a collegiate club or an individual member in accordance with the current rulebook.
Whether your goal is to aim for the Olympics, improve your overall health and fitness, enjoy the social aspects of skating or just to have fun, you are sure to realize those goals by learning to skate at the Skating Club of Wilmington.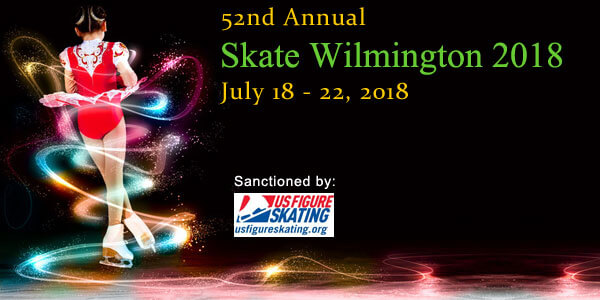 Skate Wilmington 2018 was a great success!
Competition Results

Thank you to all our volunteers who helped to make it such a wonderful competition! And as always, thank you to all our vendors! We hope to see you back at Autumn Skate 2018 which is the weekend before Thanksgiving week! Stay tuned to this website for further details.
The April 6th & 7th – Theatre On Ice 2018 Ice Show was huge success! We would like to thank all of our performers and volunteers for putting on a fantastic show! Special thanks to Jeremy Abbott, our sponsors and attendees for all of your support!
We captured our show in photograph for your pleasure.
Photos from – Theatre On Ice – Friday, April 6th
Friday's Show by Maria Hurd Photography (download codes not required to view)
Photos from – Theatre On Ice – Saturday, April 7th
The younger age class appears especially promising, with skaters such as 15 year old Hsieh (pronounced Shay), who was third in the novice competition at the recent U.S. Nationals…
Delaware is a Popular Training Ground for Olympic Skaters. An ice rink in Wilmington, Delaware has been shaping Olympic figure skaters for decades. NBC10's Tim Furlong takes us inside the famous facility.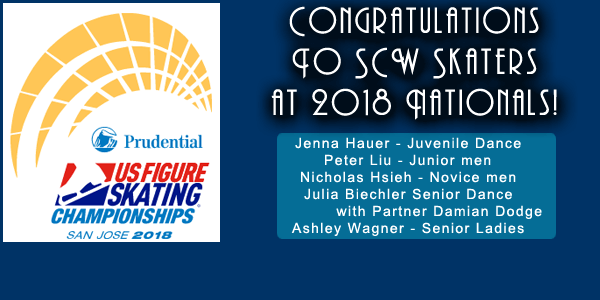 Congratulations to all of our skaters that competed at the 2018 Prudential US Figure Skating Championships in San Jose, California last week. We are very proud of your accomplishments!
Ashley Wagner – Senior Ladies 4th place (pewter medal) and 1st alternate to the Olympic and World teams
Julia Biechler – Senior Dance (with partner Damian Dodge) – 10th place
Peter Liu – Junior Men – 9th place
Nicholas Hsieh – Novice Men – 3rd place (bronze medal)
Jenna Hauer – Juvenile Dance (with partner Benjamin Starr – 1st place (gold medal)
by Lynn Rutherford, special to icenetwork
Jenna Hauer and Benjamin Starr's light and charming free dance to the soundtrack of the romantic 2011 French film The Artist won high praise from judges Monday at the 2018 U.S. Figure Skating Championships, earning the couple 42.86 points and helping them crush the competition on their way to winning the juvenile dance title.
When added to their scores from the two pattern dances, the Connecticut-based skaters ended with 83.84 points, putting them more than 14 points clear of their closest competitors. [read more]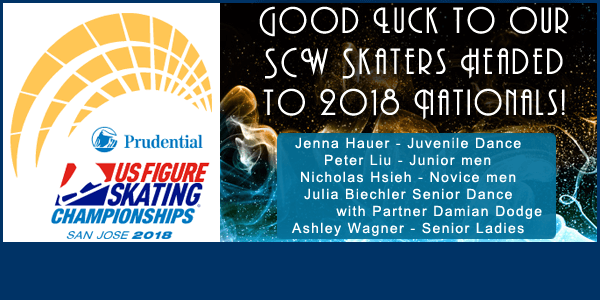 The following SCW skaters will be competing at the 2018 National Figure Skating Championships in San Jose in January. Good luck to our competitors!
Jenna Hauer – Juvenile Dance with partner Benjamin Starr (First Place!)
Nicholas Hsieh – Novice Men
Peter Liu – Junior Men
Julia Biechler – Senior Dance with Partner Damian Dodge
Ashley Wagner Senior Ladies