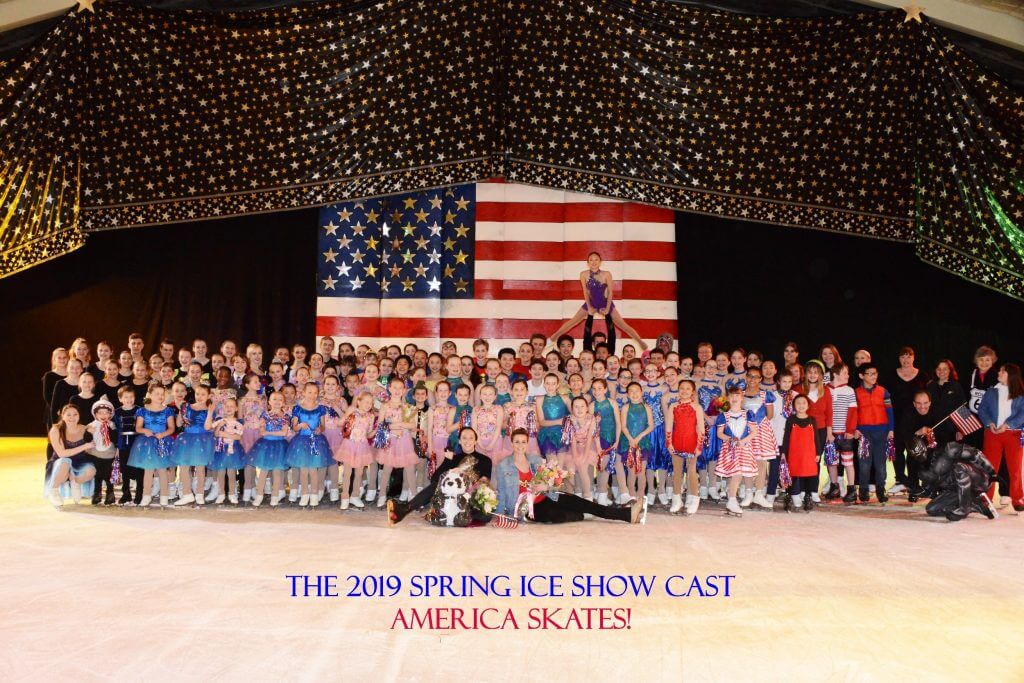 Congratulations to the cast and crew of our 2019 Spring Ice Show America Skate. The April 5th & 6th – America Skates 2019 Ice Show was huge success! We would like to thank all of our performers and volunteers for putting on a fantastic show! Special thanks to Johnny Weir, our sponsors and attendees for all of your support!
Photos from 2019 Spring Ice Show America Skates
We are lucky to have two photo sets of our event available for download. The Maria Hurd set must be accessed from an Maria's Commercial photo repository and requires a pin number to access as indicated below.
Maria Hurd 2019 Ice Show Photo Set
Don Thureau 2019 Ice Show Photo Set

Flickr feed shown below
To download individual images Click the Flickr link below to access the Club's Flickr account.
Our Stick & Puck Sessions are available for all hockey players to work on their Stick & Puck skills. Walk on fee is $10.
ZIGZAGZ Blade Covers and High Tech socks for skaters. Quick Dry & Odor Resistant.
Photos from our National Skating Month Open House Saturday, January 19th
Photos from Open House Event
Photos from our Open House Wednesday, December 26th, 2018!
Photos from Open House Event
Congratulations to seven-time U.S. medalists Carol Fox and Richard Dalley who have been elected to the U.S. Figure Skating Hall of Fame which will take place in Detroit in January 2019. They trained at and represented the Skating Club of Wilmington. The ice dance team of Fox and Dalley earned medals in nine of their 10 U.S. Championships, including five silver and two bronze at the senior level (1978-84). The five-time World Team members also earned medals in all but one of their international and professional events. After finishing fifth at the 1984 Olympics, Fox and Dalley were featured performers of the Ice Capades from 1984-89. Dalley has served U.S. Figure Skating and the U.S. Olympic Committee in multiple roles and is an ISU judge and national technical specialist. Fox served on the Adult Skating Committee and has been coaching since 1990. Congratulations from the SC of Wilmington!
Photos from our Saturday, December 8th, 2018 Holiday Ice Recital and Club Party!
Photos from Saturday's Event
Congratulations to all of our skaters that competed at the Eastern and Midwestern sectional figure skating championships. Best of luck at the U.S. Figure Skating Championships in Detroit in January 2019.
Senior Ladies-Julia Biechler (3rd place Easterns)
Junior Men-Peter Liu (1st place Easterns)
Junior Men-Nicholas Hsieh-1st alternate to Nationals (5th place Easterns)
Intermediate Dance-Jenna Hauer-2nd place Easterns
Junior Men-David Shapiro-2nd place Midwesterns
Photos from Saturday, November 3rd performances by our competitive SCW skaters during our Send-Off Exhibition. These SCW skaters who have qualified to compete in the 2019 USFS Sectionals.
Photos from Saturday's Send-off Exhibition
Congratulations to our skaters that have competed so far at Regionals.
Anna Maria Bella-Novice Ladies Qualifying Round-3rd, Novice Ladies Final-13th
Reagan Klohr-Novice Ladies Qualifying Round-5th
Grace Walton-Novice Ladies Qualifying Round-2nd, Novice Ladies Final-6th
Margaret Conly-Farnham-Intermediate Ladies Qualifying Round-8th
Llewelyn Sannajust-Novice Men-5th and 1st Alternate to Easterns
Jacob Fitzpatrick-Novice Men-7th
Julia Biechler-Senior Ladies (New Englands)-4th and will advance to Easterns
Peter Liu and Nicholas Hsieh have received byes and will be competing at Easterns.
Best of luck this week to Codie Hazen and David Shapiro who will be competing this week.