Congratulations to our skaters that have competed so far at Regionals.
Anna Maria Bella-Novice Ladies Qualifying Round-3rd, Novice Ladies Final-13th
Reagan Klohr-Novice Ladies Qualifying Round-5th
Grace Walton-Novice Ladies Qualifying Round-2nd, Novice Ladies Final-6th
Margaret Conly-Farnham-Intermediate Ladies Qualifying Round-8th
Llewelyn Sannajust-Novice Men-5th and 1st Alternate to Easterns
Jacob Fitzpatrick-Novice Men-7th
Julia Biechler-Senior Ladies (New Englands)-4th and will advance to Easterns
Peter Liu and Nicholas Hsieh have received byes and will be competing at Easterns.
Best of luck this week to Codie Hazen and David Shapiro who will be competing this week.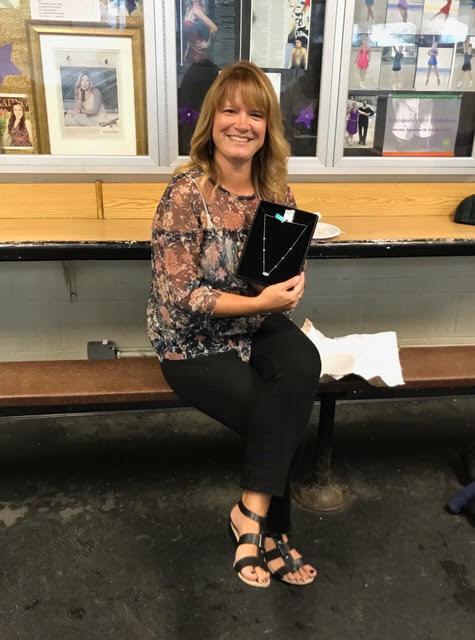 Sheila Chambers was our full time Administrative Accounting Assistant. For the past twenty three years, Sheila has been a devoted employee and friend at SCW. Her welcoming smile and pleasant demeanor has been one of the reasons our skating club has been known as the friendliest rink in our area. Sheila Chambers will be headed to her new job at an accounting firm.
Join us at the Skate Club of Wilmington on Saturday, September 29th beginning at 12:00PM for an Exhibition and Send-Off.
Photos of this past Saturday's performances by our competitive SCW skaters were excellent during our Send-Off Exhibition These SCW skaters who have qualified to compete in the 2019 USFS Regional Championships in October. Thank you and good luck to all our skaters!
Photos from Saturday's Send-off Exhibition
Starts September 14th! – Every Friday night from 7:30pm to 9:30pm. Come out and join the fun!
Whether your goal is to aim for the Olympics, improve your overall health and fitness, enjoy the social aspects of skating or just to have fun, you are sure to realize those goals by learning to skate at the Skating Club of Wilmington.
The April 6th & 7th – Theatre On Ice 2018 Ice Show was huge success! We would like to thank all of our performers and volunteers for putting on a fantastic show! Special thanks to Jeremy Abbott, our sponsors and attendees for all of your support!
We captured our show in photograph for your pleasure.
Photos from – Theatre On Ice – Friday, April 6th
Friday's Show by Maria Hurd Photography (download codes not required to view)
Photos from – Theatre On Ice – Saturday, April 7th
Delaware is a Popular Training Ground for Olympic Skaters. An ice rink in Wilmington, Delaware has been shaping Olympic figure skaters for decades. NBC10's Tim Furlong takes us inside the famous facility.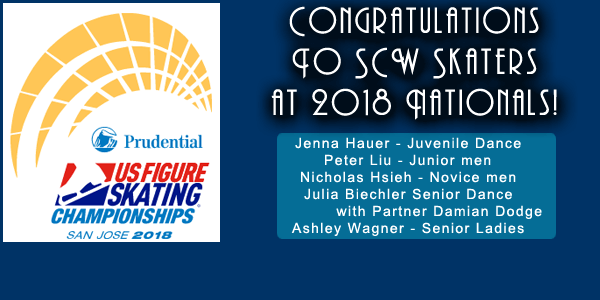 Congratulations to all of our skaters that competed at the 2018 Prudential US Figure Skating Championships in San Jose, California last week. We are very proud of your accomplishments!
Ashley Wagner – Senior Ladies 4th place (pewter medal) and 1st alternate to the Olympic and World teams
Julia Biechler – Senior Dance (with partner Damian Dodge) – 10th place
Peter Liu – Junior Men – 9th place
Nicholas Hsieh – Novice Men – 3rd place (bronze medal)
Jenna Hauer – Juvenile Dance (with partner Benjamin Starr – 1st place (gold medal)
Photos from our Dec. 9th Holiday Recital and photos with Santa. Thank you to all of our participants for putting on a great show and to all of our patrons for coming out and supporting our club!
Recital Photos
Photos With Santa
The following SCW skaters will be competing at the 2018 South Atlantic Figure Skating Championships in October. Good luck to our competitors!
Biechler, Julia – Junior Ladies
Hazen, Codie – Novice Men
Hsieh, Nicholas – Novice Men
Liu, Peter – Junior Men
Sannajust, Andreanne – Novice Ladies
Sannajust, Llewelyn – Intermediate Men
Shapiro, David – Junior Men
Shen, Ocean – Intermediate Men
Shen, Lotus – Juvenile Girls