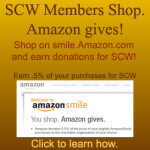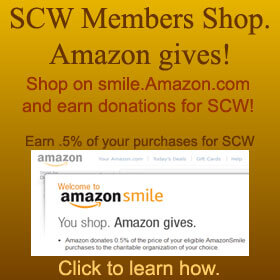 SCW has join AmazonSmile! That is great news because when You Shop Amazon Gives.
Remember to SMILE!
You must use SMILE.amazon.com
(not just amazon.com)
AmazonSmile is a simple and automatic way for you to support your favorite charitable organization every time you shop, at no cost to you. When you shop at smile.amazon.com, you'll find the exact same low prices, vast selection and convenient shopping experience as Amazon.com, with the added bonus that Amazon will donate a portion of the purchase price to The Skating Club of Wilmington.
How do I get started?
2. Sign up for an amazonsmile account if you don't already have an amazon account; if you have an amazon account already, login – the information will transfer over to amazonsmile.
3. On the amazonsmile home page, there is a blank search box, and right under the box is the word "Supporting" with an arrow for a drop down menu
4. Click on the drop down menu, and find and select the Skating Club of Wilmington
5. Continue shopping on amazon as you normally would, using the smile.amazon.com website.
Each time you go to buy something, be sure to go to the
amazonsmile.com
website (mine pops up automatically), and the club will get a percentage of the sale. There is no additional markup to the price. you can click on "your orders", and find out how much of your sale was donated to SCW.
That's it, Amazon will start sending checks to the club!

Make shopping more rewarding than ever. Turn your everyday purchases in to cash for our SCW fundraiser. Shop your favorite brands, share on social media. Get Started today!
This past Saturday's Holiday Recital performances have been captured in photograph for your pleasure. Thank you to all of the performers for a great show!
Photos from 2016 Holiday Recital
Results for Autumn Skate 2016 are posted!  This is a competitive event, sanctioned by U.S. Figure Skating. This competition is open to all eligible, restricted, reinstated or readmitted persons as defined by the Eligibility Rules, and is a currently registered member of a U.S. Figure Skating member club, a collegiate club or an individual member in accordance with the current rulebook.
This past Saturday's performances by our competitive SCW skaters were excellent during our Send-Off Exhibition prior to the Eastern Sectional 2017 Championships near Charlotte, North Carolina. The new bright LED lights in our rink made a huge difference in getting better photographs of the event also as you'll be able to see. Thank you and good luck to all our skaters!
Photos from Saturday's Send-off Exhibition
We would like to congratulate Ashley Wagner on her Gold Medal performance at Skate America 2016.
Wagner won the Progressive Skate America women's title Saturday, edging California training partner Mariah Bell.
Japan's Shoma Uno topped the men's short program earlier, followed by Americans Adam Rippon and Jason Brown.
Wagner, the world silver medalist, has now won her second Skate America title in five seasons.
 "Today was a little sticky, but at the end of the day I got the job done," Wagner said. "I think I built upon what I did at the Japan Open. It felt like more of a complete program and I think that's what pulled me through today. Beyond that, I think I have some serious spin levels to work on going into Cup of China; they were dearly missed today."
Coach Rick Stengle passed away Sunday morning after suffering several strokes in the past 6 weeks. He skated at SCW as a competitor and then coached full-time at SCW from 1983-2011 and he was an 8-time National Freestyle Skating Coach. He coached part-time for a couple of years after 2011, and often would stop by during his retirement to catch up on rink news. He taught all levels of free skating at all ages and even taught low level ice dancing. Rick had a B.A. from ENC in Boston. Rick will be greatly missed by many of his friends, past students and close associates. Funeral arrangements will be announced at a future date.
Julia Biechler & her partner, Damian Dodge placed in 4th place in the Senior Dance level at the 2016 Lombardia Trophy Competition in Bergamo, Italy. This was their very first International competition as part of Team USA. Congratulations to both! SCW is proud of you!
Good luck to all our skaters at the Regional Championships!
Photos from Saturday's Send-off Exhibition
Whether your goal is to aim for the Olympics, improve your overall health and fitness, enjoy the social aspects of skating or just to have fun, you are sure to realize those goals by learning to skate at the Skating Club of Wilmington.