The Graduating Senior Program's goal is to recognize skaters for their achievements during high school with the presentation of a certificate during a school function or graduation ceremony.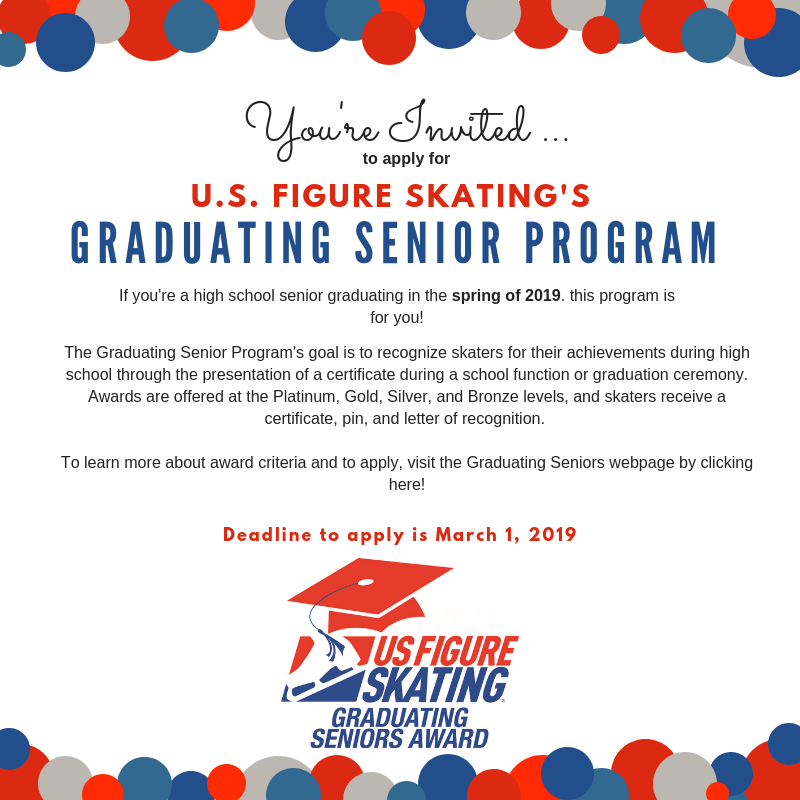 Friday and Saturday evenings, April 5 and 6, 2019 – Superheroes on skates? They power onto a sheer ice sheet at the Skating Club of Wilmington. Joining them for the 2019 show will be freestyle skaters with gyrating jumps, ice dancers with intricate footwork, synchronized teams in unison, and special Olympians with heart.
Congratulations to seven-time U.S. medalists Carol Fox and Richard Dalley who have been elected to the U.S. Figure Skating Hall of Fame which will take place in Detroit in January 2019. They trained at and represented the Skating Club of Wilmington. The ice dance team of Fox and Dalley earned medals in nine of their 10 U.S. Championships, including five silver and two bronze at the senior level (1978-84). The five-time World Team members also earned medals in all but one of their international and professional events. After finishing fifth at the 1984 Olympics, Fox and Dalley were featured performers of the Ice Capades from 1984-89. Dalley has served U.S. Figure Skating and the U.S. Olympic Committee in multiple roles and is an ISU judge and national technical specialist. Fox served on the Adult Skating Committee and has been coaching since 1990. Congratulations from the SC of Wilmington!
Auditions for SCW Blades Synchronized Skating Teams At the Skating Club of Wilmington will be held on Sunday, April 14th from 11:45am – 2:00pm